Since the 1950's race to reach the moon, STEM has been an educational priority across globe. Politicians and economists have realized that having a strong STEM Education, and, thereby STEM-ready workforce, allows nations to enjoy technological advancement, innovation, and the economic benefits that follow.
Historically, the United States has been a leader in STEM promotion and development. Not only did the U.S. government coin the legendary acronym itself, but also the federal government has been heavily involved in the creation of myriad curriculums designed to expose and habituate students to STEM from Kindergarten onwards!
However, as the rest of the world has caught up, the U.S. has stagnated, heavily, in its STEM education. Recent studies have revealed that 2.4 million STEM jobs are currently unfilled -- due to lack of qualified applicants. This gap is only expected to grow, as the U.S. is expected to create 1 million more STEM jobs by the year 2022.
What is STEM?
STEM educates "students in four specific disciplines — science, technology, engineering and mathematics — in an interdisciplinary and applied approach. Rather than teach the four disciplines as separate and discrete subjects, STEM integrates them into a cohesive learning paradigm based on real-world applications."
From the surgical robots ideated by biotechnologists, to radical new social media platforms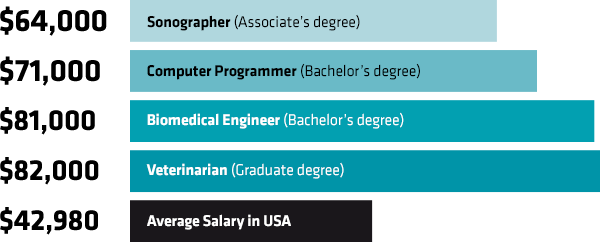 developed by information technologists, STEM has revolutionized, and continues to change every aspect of modern living. Consequently, as the world changes and adapts, the demand for STEM-related jobs has grown exponentially, greatly outpacing demand for the non-STEM jobs that once dominated the work force.
Why is There A Gap?
If millions of STEM-jobs are being created per year, and the U.S. is educating its students from Kindergarten itself, well, why is there a gap at all?
Seeing as American universities produce "far more STEM graduates than there are STEM jobs," researchers from the U.S. Department of Education, Harvard University, and the Wharton School of Management were confused as well. Upon further investigation, the answer became clear: it is not the quantity of STEM graduates, but the quality of STEM graduates.
According to the D.O.E., 28% of high school freshmen will declare an interest in a STEM-related field, but by the time these students graduate from high school, 57% of these students will lose interest. This loss of interest is highly correlated with secondary schools' inability to create academic achievement in advanced mathematics. According to Dr. Marcus Bright, " too many [high school] students underachieve in classes beyond basic Algebra. These courses end up being stumbling blocks that many students don't seem to get past. The consequence of this is that the choice of majoring in a high growth STEM field when they reach a college or university is taken off of the table due to a lack of math competency."
Unfortunately, this trend continues well into university-level studies, as myriad students "doubt themselves and lack confidence in their ability to successfully complete higher level math classes. These feelings cause some to give up on majors like engineering." To survive the STEM pipeline,
university students should successfully complete Calculus I and Calculus II. However, nearly one-third of students fail or drop Calculus 1 itself. This trend is particularly prominent in women studying STEM. Recent studies have found that 35% of women who completed Calculus I reported "I do not believe I understand the ideas of Calculus I well enough to take Calculus II." Meanwhile, only 14% of men felt this way. While the causes of this alarming gap are undeniably multivariable, the message is clear: women are 1.5 times more likely to leave the STEM Pipeline due to a lack of confidence in their mathematical confidence.
The common denominator, ultimately is a severe lack of ability / confidence to complete higher level math courses. It seems, though once the U.S. was a global leaders in all things STEM, now secondary schools, community colleges and universities are failing to produce students with adequate mathematical skills to survive the STEM Pipeline.
How Do We Close The Gap?
The answer is simple: a strong focus on academic achievement in Math. From K-12, the U.S, needs to build strong mathematical competency and confidence in all students, so that complicated concepts in Calculus do not dissuade any student from pursuing their dreams.
Having recognized the inability of U.S. students to handle advanced mathematics, developers at Pearson have launched a mobile application called Aida, to help students build fundamental skills in calculus. Pearson hopes this app can help plug one of the many "leak[s] in the STEM pipeline."
Parents and educators can follow a similar approach and make sure they prioritize their students high-level math achievement, and provide adequate help to any student struggling with concepts. The resources available to help are endless: from private tutoring, to peer-to-peer support, to artificial intelligence applications, we must invest in helping our students to cultivate the grit and endurance necessary to tackle difficult problems and successfully overcome them.
Emphasize the importance of STEM, both as a profession and as a pivot towards the future. Remind students, if they can push through the roadblocks, the rewards of a STEM career are innumerable. Teach girls and boys alike to believe in themselves, and especially in their mathematical capabilities. Most importantly, teach your children to persevere: when things get tough, try again and utilize every tool at your disposal -- but don't ever give up on your dreams because of a few math problems.
Sources
Benzuly, S. (2016). "Is It Calculus' Fault? Examining the lack of women in STEM careers" [Web]. Retrieved from https://voices.berkeley.edu/sciences-mathematics-and-biotechnology/it-calculus-fault
Bright, M. (2017). "A Laser Focus on Math is Needed to Diversify the STEM Pipeline." [Web]. Retrieved from https://www.huffpost.com/entry/a-laser-focus-on-math-is-needed-to-diversify-the-stem_b_5934a5a2e4b062a6ac0ad126
Charette, R. (2019). "STEM Graduates Not Workforce Ready? Employers Should Look in the Mirror as to Why." [Web]. Retrieved from https://www.advanc-ed.org/source/stem-graduates-not-workforce-ready-employers-should-look-mirror-why
Ellis J, Fosdick BK, Rasmussen C (2016) Women 1.5 Times More Likely to Leave STEM Pipeline after Calculus Compared to Men: Lack of Mathematical Confidence a Potential Culprit. PLoS ONE 11(7): e0157447. https://doi.org/10.1371/journal.pone.0157447
Horn, E. (2014). "What is STEM Education." [Web]. Retrieved from https://www.livescience.com/43296-what-is-stem-education.html
Marick Group (2016). "A Look At The History Of STEM (And Why We Love It)." [Web]. Retrieved from http://marickgroup.com/news/2016/a-look-at-the-history-of-stem-and-why-we-love-it
McKenzie, L. (2019). "Pearson Launches Calculus Homework Helper." [Web]. Retrieved from https://www.insidehighered.com/digital-learning/article/2019/11/18/pearson-introduces-aida-ai-powered-calculus-tutor
Smithsonian Science Education Center Privacy Policy (2020). "The STEM Imperative." [Web]. Retrieved from https://ssec.si.edu/stem-imperative
U.S. Department of Education (2018). "Science, Technology, Engineering, and Math, including Computer Science." [Web]. Retrieved from https://www.ed.gov/stem
1